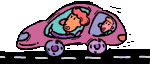 Click here for online directions to our park

Directions from Route 91 North & South: Exit 40 (Bradley International Airport) to Route 20 / East Granby / Granby Exit. Route 20 West to Granby center. At intersection of Routes 10/202 & 20, take left onto 10/202 and get into the right lane. Continue through lights on 10/202 South - park is on the right.
From Route 44: North on Route 10 to Granby. Park is located just before the town center on the left.
From Western Massachusetts: Take Route 57 to the center of Southwick. At the end of Route 57, take a left on Route 10/202 South through town and into Granby. Continue on 10/202 until you pass Granby town center. The park is on the right just past the town center.
When you turn into the park entrance, go straight and turn right at the fork in the road. The Doggs Park is located at the far end of the parking lot just after the horse exercise area on the right.
Click

here

to see a map of Salmon Brook Park